It is always tragic when a large number of people lose their lives, but it is worse when the deaths are of children. the latest of this kind of devilish act occurred yesterday at a Connecticut school where over 26 lives including 20 children. This is a list of eleven of the worst massacres at schools.
11 Cologne school massacre
11 killed | 22 injured | Walter Seifert
June 11, 1964: Cologne school massacre. Armed with an insecticide sprayer converted into a flamethrower, a lance and a homebuilt mace, 42-year-old Walter Seifert entered the Katholische Volksschule and opened fire on the girls playing in the courtyard. He then knocked in classroom windows with his mace and fired inside. Eight children and two teachers died, twenty children and two teachers survived with very severe burns. After taking a cyanide pill, Seifert died the following day, in custody.
10The École Polytechnique Massacre
15 killed 14 injured | Marc Lépine | the worst school massacre in Canada's history.
December 6, 1989 : Twenty-five-year-old Marc Lepine killed 14 women and wounded a further 13 people at the École Polytechnique at the University of Montreal in the worst school massacre in Canada's history. He then took his own life. In a letter he left behind, he indicated a hate for feminists as a motive for the shooting. It remains to this day the worst massacre in Canadian history.
9 Columbine High School Massacre
15 died | 24 injured | Eric Harris and Dylan Klebold
April 20, 1999 : Two students stormed Columbine High School in Littleton, Colorado and murdered 12 other students aged 14 to 18 as well as a teacher. A further 24 people were injured before the attackers, Eric Harris and Dylan Klebold, killed themselves.
8. University of Texas Clock Tower Shootings
18 killed | 31 injured | Charles Whitman
August 1, 1966 : University of Texas Clock Tower Shootings. After killing his wife and mother, Charles Whitman pointed a rifle from the observation deck of the University of Texas at Austin's Tower and began shooting in a homicidal rampage that went on for 96 minutes. He killed fifteen people and wounded 31 others before being shot dead by police. David Gunby was wounded in the shooting but died 35 years later after ceasing dialysis
7 Dunblane massacre
18 killed | Thomas Hamilton | (the deadliest attack on children in United Kingdom history)
March 13, 1996 : Dunblane massacre. Unemployed former shopkeeper and Scout leader Thomas Hamilton walked into Dunblane Primary School armed with two 9 mm pistols and two .357 Magnum revolvers. He killed sixteen small children and a teacher. The subsequent police investigation revealed that Hamilton had loaded the magazines for his Browning with an alternating combination of fully metal jacketed and hollow point ammunition. This event led to the banning of handguns in the UK.
6 Erfurt massacre
17 killed | 7 injured | Robert Steinhäuser (Worst German Rampage)
April 26, 2002 : Eighteen people died when an expelled former pupil went on a shooting spree at his school in the eastern German city of Erfurt. Masked and dressed in black, the gunman walked through classrooms killing 14 teachers, two schoolgirls and one of the first policemen on the scene before taking his own life.
5 Ma'alot massacre
26 killed | 60 wounded | DFLP, PLO | Democratic Front for the Liberation of Palestine and Palestine Liberation Organization
May 15, 1974: The Ma'alot massacre was an attack, carried out in Ma'alot, Israel by members of the Democratic Front for the Liberation of Palestine, that occurred on May 15, 1974, the 26th anniversary of Israeli independence. In this massacre members of the DFLP murdered 22 religious high school students from the city of Safed. Ma'alot, located on a plateau in the hills of the Western Galilee region of Israel, some six miles south of the Lebanese border, was a development town founded in 1957 by Jewish refugees, mainly from Morocco and other Arab countries such as Tunisia. The terrorist attack was perpetrated by three members of the Popular Democratic Front for the Liberation of Palestine (PDFLP), al-Jabha al-Dimuqratiyya li-Tahrir Filastin.
4. Virginia Tech
32 killed, many more injured | Seung-Hui Cho
The Virginia Tech massacre was a school shooting comprising two separate attacks about two hours apart on April 16, 2007, on the Virginia Tech campus in Blacksburg, Virginia, United States. The perpetrator, Seung-Hui Cho, killed 32 people and wounded many more, before committing suicide, making it the deadliest school shooting in U.S. history.
3 Bath School disaster
45 died | 58 injured | Andrew Kehoe
May 18, 1927 : In the deadliest mass school murder in United States history, former school board member Andrew Kehoe set off three bombs in Bath Township, Michigan killing 45 people and wounding 58. Kehoe killed himself and the superintendent by blowing up his own vehicle.
2 Beslan school hostage crisis
At least 386 dead, including 31 hostage takers | Over 700 injured | Shamil Basayev's Riyadus Salihiin group
1 September 2004: A group of pro-Chechen armed rebels took more than 1,200 school children and adults hostage on September 1, 2004, at School Number One (SNO) in the town of Beslan, North Ossetia. On the third day of the standoff, gunfire broke out between the hostage-takers and Russian security forces.
Addendum: Red Lake High School massacre
10 killed | 12 injured | Jeff Weise
March 21, 2005 : At Red Lake Senior High School in Minnesota, 16-year-old student Jeff Weise opened fire, killing five fellow students, a teacher and a security guard. Prior to the rampage, he had shot his grandfather and his grandfather's girlfriend. It later became apparent that Weise had visited neo-Nazi Web sites prior to the shooting.
1. 20 children among 26 victims of Connecticut school shooting
Newtown, Connecticut (CNN)
-- Dressed in black fatigues and a military vest,
a heavily armed man
walked into a Connecticut elementary school Friday and opened fire, shattering the quiet of this southern New England town and leaving the nation reeling at the number of young lives lost.
Within minutes, 26 people were dead at Sandy Hook Elementary School -- 20 of them children. Among the six adults killed were Dawn Hochsprung, the school's beloved principal, and school psychologist Mary Sherlach.
The shooter, identified by three law enforcement officials as 20-year-old Adam Lanza, also was killed, apparently by his own hand. Separately, his mother's body was found at a Newtown residence.
"Stuff like this does not happen in Newtown," a tight-knit community of about 27,000 just outside Danbury, said Renee Burn, a local teacher at another school in town. In the past 10 years, only one homicide had previously been reported.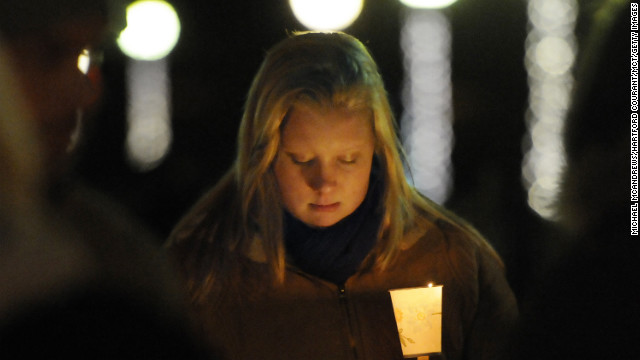 Photos: Connecticut school shooting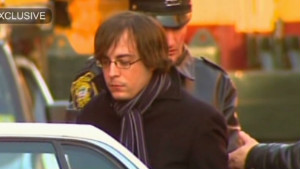 Suspected shooter's brother questioned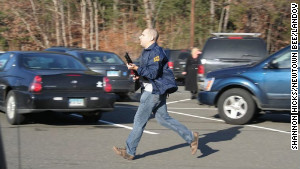 How the school shooting unfolded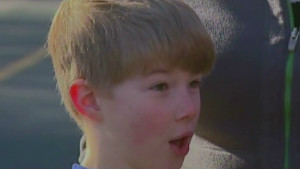 Student: I saw bullets going past
With the death toll at 26, the Newtown shooting is the second-deadliest school shooting in U.S. history, behind only the 2007 shooting at Virginia Tech that left 32 people dead.
"Evil visited this community today," Connecticut Gov. Dan Malloy said of Friday's massacre.
Young students described being ushered into bathrooms and closets by teachers as the first shots rang out. Janet Vollmer, a kindergarten teacher, locked her classroom doors, covered the windows and read a story to her 19 students to keep them calm.
Third-grader Alexis Wasik said police and teachers barged into her classroom and told students to hide in the corner.
"Everybody was crying," she said. "And I just heard the police officers yelling."
One parent who was in the school at the time of the shooting said she heard a "pop, pop, pop," sound around 9:30 a.m. In the room with her were Hochsprung, the vice principal and Sherlach. All three left the room and went into the hall to see what was happening. The parent ducked under the table and called 911.
"I cowered," she told CNN's Meredith Artley. The shooter "must have shot a hundred rounds."
Responding police officers helped evacuate the children, telling them to hold hands and keep their eyes closed to the carnage as they exited the building.
As reports of the shooting surfaced, frantic parents descended on a nearby firehouse where the children had been taken.
"Why? Why?" one woman wailed as she walked up a wooded roadway leading from the school.
Police declined to speculate on a motive Friday evening, citing the ongoing investigation. Lanza had no known criminal record, a law enforcement official said.
Alex Israel, a former classmate of Lanza's, described him as "quiet" and "reserved."
"You could definitely tell he was a genius," Israel told CNN, adding she hadn't talked with him since middle school. "He was really quiet, he kept to himself."
Three weapons were recovered from the school: a semi-automatic .223 Bushmaster found in a car in the school parking lot, and a Glock and a Sig Sauer found with Lanza's body, a law enforcement official familiar with the investigation said. The weapons were legally purchased by Lanza's mother, the official said.
The official said Lanza died of an apparent self-inflicted gunshot wound. Lt. J. Paul Vance of the Connecticut State Police said that the medical examiner will determine the cause of death for the gunman, though he noted that police never discharged their weapons.
In addition to the killings at Sandy Hook, another adult was found dead at a second location in Newtown, Vance said. A law enforcement source with detailed knowledge of the investigation identified that person as Lanza's mother, Nancy.
Despite earlier reports that said she was a teacher, Nancy Lanza was not a teacher at the school where the killings took place, said Janet Vollmer, a kindergarten teacher at Sandy Hook Elementary School.
Meanwhile, authorities in Hoboken, New Jersey, were questioning Ryan Lanza, the suspect's older brother, law enforcement sources said, though they did not label him a suspect. Lanza's father, who lives in Connecticut, was similarly questioned, one of the law enforcement officials said.
Earlier, investigators had identified Ryan Lanza as the shooter. It was not clear what caused the confusion among investigators.
The fact that so many of those killed were young children -- Sandy Hook serves students in kindergarten through fourth grade -- touched a nerve across the world Friday, from U.S. President Barack Obama and other world leaders expressing grief to regular folks reacting with horror on social media as the news unfolded. The overwhelming sentiment: Hug your kids closely.
Obama, a father of two girls, wiped away tears while delivering a statement about the shooting, saying, "Our hearts are broken today."
"The majority of those who died today were children. Beautiful little kids between the ages of 5 and 10 years old," he said.
The bodies of the young victims remained where they fell Friday night, as authorities worked to positively identify them.
Flags were ordered to fly at half-staff nationwide in tribute to the victims, and candlelight vigils were planned across the country as Americans came together to try to comprehend the tragedy.
At a vigil in Newtown, just a mile away from the school, mourners spilled from St. Rose of Lima Roman Catholic Church, which was filled to capacity.
"This is most definitely the worst thing we've experienced in town," Newtown Police Lt. George Sinko said.
Parents, meanwhile, struggled to come up with answers for their children who were among those safely evacuated Friday.
Aimee Seaver's daughter is a first-grader at Sandy Hook.
"It's a very rough night here," she told "AC 360." "When your first-grader goes to bed and says, 'Mommy, is anyone from my class last year -- are they all OK?' and you look at them and say, 'I'm not really sure,' it's a rough night to tell that to your 7-year-old."
It is not yet known how the gunman entered the school.
Hochsprung, the slain principal, had recently installed a new security system to ensure student safety.
Under the new system, every visitor was required to ring a doorbell at the front entrance after the doors locked at 9:30 a.m. and report to the main office to sign in.
Police began receiving reports of shots fired around 9:40 a.m. Friday.
In 1999, at Columbine High School in Littleton, Colorado, two students shot 13 people to death before killing themselves.